Electric Vehicle Programs
Electric Vehicles
As of August 2020, there are more than 1.5 million Electric Vehicles (EVs) on the roads in the U.S. That number is expected to jump to more than 18 million EVs by 2030.
Idaho Falls Power is prepared for increased use of EVs and wants to help customers better understand the technology. As your trusted energy supplier for more than 120 years, we are here to answer questions and provide information about your energy needs. See the tabs below for resources to help you make decisions about whether an electric vehicle is right for you.
Feel free to call, email, or swing by our offices with questions about EVs. We're here to help.
Idaho Falls Power Charging Program
Idaho Falls Power has an inexpensive EV charger lease program for commerical customers.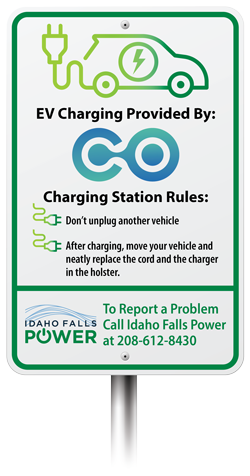 Idaho Falls Power will install and maintain Level II chargers for commercial customers who want EV charging capability. The cost is $20 per month for each charger, and the customer must pay for the electricity used for charging.
Charging Program Benefits
Business receives recognition at the EV charging station for providing the service.
Idaho Falls Power handles charger installation and maintenance.
Usage is integrated into customer's current electric service and billing.
Low-cost energy from Idaho Falls Power to provide charging to employees and customers.
Business listed on EV charging websites like PlugShare and ChargeHub.
Idaho Falls Power staff are available to help determine the best location for charging stations. We maintain the stations to ensure proper working condition. Standard maintenance includes cleaning the charging station connector, testing the charging voltage level, and testing system functionality. Idaho Falls Power also provides a sign with charging do's and dont's and where to call if there are issues.
Additionally, Idaho Falls Power has two demonstration sites at its offices at 140 S. Capital Avenue. These are set up to allow people to see and test the Level II chargers offered through the program. These public charging stations are free to use and availalbe to anyone.